Give your users the best defence with our Free printable Ransomware Guide
The most important part of your Ransomware Protection strategy is having effective endpoint backup. But educating your users on how to protect themselves is a vital part of your defence.
Download our single page 8 Steps to Never Getting Held Ransom by Ransomware and give it to your users.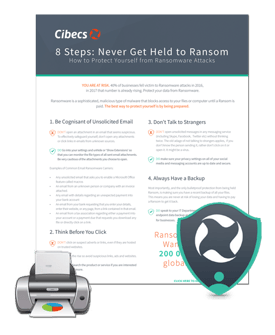 Strengthen Your Ransomware Battle Plan by giving your staff:
A Brief Outline of Ransomware

Common Email Ransomware Carriers

Steps to avoiding a Ransomware Attack
Download the guide by filling in the short form on the right.

You might also find these related Ransomware Resources valuable:
IT Manager's Guide: 8 Steps to Protecting Your Business from a Ransomware Attack

Are you Ransomware Prepared? Test Yourself and Get Your Ransomware Defence Score
Find complete endpoint data protection at www.cibecs.com
---

"With Cibecs there was peace of mind that data was recoverable. We did not even consider paying the ransom."
Enrico Payne – IT Manager, NJR Steel