"Negligent employees (users) and the devices they use in the workplace continue to be the greatest source of endpoint risk." - Ponemon Institute, 2016 State of the Endpoint Report
Most laptop and desktop data is at risk, discover the top 3 Common Data Protection Myths that many business IT Departments unwittingly fall victim to.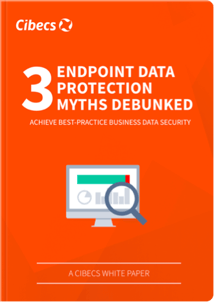 In this white paper discover:
The 3 Most Common Business Data Protection Misconceptions
The real threats around endpoint data security
How your IT Department can avoid these common myths and enforce best practice end-user practice data protection.
Download the Guide by filling out the short form on the right.

You might also find these related resources valuable:
Find complete endpoint data protection at www.cibecs.com


---

"This is partly the reason we invested in Cibecs, to take responsibility away from users and give us central control over what data is backed up. It's just a pity we didn't have it years earlier, it could have saved us a whole lot more!"
Ryan Hicks – IT Manager UTi's Freight Forwarding division